Our services
Plastic Surgery Ostrava
Contact
When filling out the form, you have free consultation from us.
Client Reference
Satisfaction 100%. Everything went smoothly. Communication excellent, quick deal and high-quality surgery without scars and excellent price too.
Petra B.
Gynecomastia surgery
I'm a month after surgery and I'm very happy. MUDr.Zakout has golden hands. I would like to thank him very much, as well as the nurses and all the staff for great care. The clinic for everyone who is still hesitant to recommend.
Jana M.
Breast augmentation (Augmentation)
Nice day, I would say the only one - plastic surgery does not really work miracles, but Dr. Taisir Zakout yes! In the most succinct way, I will try to explain why. ... read more
Tereza M.
Breast augmentation (Augmentation)
The doctor sent me to remove the signs that were unpleasant to me in the two places where I was afraid. I was terribly afraid, but I did not feel so fast, I felt comfortable, and Dr. Zakout was very nice and professional. Sister also, though longer ... read more
Andrea F.
Removal of birthmarks
Show all...
Today, the foundation for success, for a great many people, begins with looking & feeling their best. Caring for your body – inside & out – encompasses good nutrition, some healthful physical exercise, and avoiding a lifestyle & habits which may sabotage such positive goals.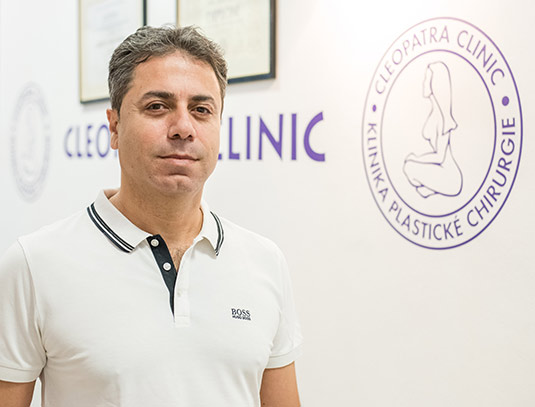 With us you have the beauty within reach
In addition, you may want to help optimize your appearance. The vast majority of people seek balance & symmetry: your face, your curves, your weight, may need a little help ... where diet & exercise are not quite enough. Yes, today, women & men - like you - face social pressure. Depending on one's stage in life ... one just can face uncompromising demands on one's appearance!
Our private clinic has been specialising in cosmetic, plastic surgery & other surgical interventions, for over 16 years. Cleopatra Clinic's highly qualified & experienced plastic surgeons – with highest-level attestations & experience in the field of aesthetic medicine – are here to help you.
Client by client, treatment by treatment, our individualised approach is based upon the appropriate high level of expertise & experience. Cleopatra Clinic can offer almost everything possible in the arena of aesthetic surgery & medicine, today. All this, in service of your aspirations, safety & comfort.
Aesthetic medicine & cosmetic surgery, today, requires versatility & flexibility. We have a large number of treatment options from which you can select your optimal, ideal procedure(s). Cleopatra Clinic is located in Ostrava's city center next to the Imperial Hotel, a prestigious landmark. Our clinic encompasses three floors of the building at our 'Tyršova 9' street-address. Our clinic's reception area, waiting room, clinical offices, operating rooms, superior post-operative care rooms & bathrooms, are located here. Cleopatra Clinic's level of expertise means it's in the advantageous position of acting as a training center: MD. Taisir Zakout is a certified trainer in the 'Happy-Lift' face-lift technique, for physicians throughout the Czech Republic.
Our greatest wish…our keenest goal…is that each of our clients is satisfied with the outcome of treatment & surgery performed. Equally important, is that each client harbours a good feeling from the professional & amenable approach of our staff. We strive to advise you, and take care of you, so that you'll feel fully at home, at Cleopatra Clinic.
Client safety, a professional approach & high quality services at very reasonable prices, are our priority…here, in eastern Czech Republic: a part of Europe which was a World birthplace & refiner of the 'spa' experience of healing waters & early aesthetic medicine procedures.
For you, and every client, we have a discreet personal & individual approach. These benefits are not only appreciated by clients from all over the Czech Republic but also myriad clients from abroad. That's right: increasingly, Cleopatra Clinic has seen a upsurge in clients who travel internationally to avail of its top quality services.
With beautifying treatments for you, we work with dedication & enthusiasm.
Thank you for your trust…and we look forward to your visit!
Professional access and high quality services at a reasonable price are our priority.
Free consultation
If you have a question or you want to order a consultation, do not hesitate to contact us,

phone. +420 596 123 854

or...
WHERE TO FIND US
Our partners